Standard Screen Printing Colors &amp PMS Matching
Color carries a different weight with each person.&nbsp Some people call and ask for "blue, whatever you got, its fine," and other people want a specific PMS color they've worked hard to determine with their artist.&nbsp Therefore, we offer several options when it comes to color.
It's important to remember screen printed, offset, digital, flexographic, imprint and sublimation processed all use different inks.&nbsp Your signs will likely be screen printed, your postcards and brochures will be offset printed and your pens will be imprinted.&nbsp
&nbsp
While the printing industry has perfected many processes, color can still vary between product, runs, methods and ink types.&nbsp Therefore, it's important to remember that while we'll work our hardest to make your colors similar, we cannot guarantee a perfect match on any product, color or run.

Standard Ink Colors &amp Ink Color Matching
We offer 25 standard ink colors at no charge for products using screen printed, imprinted and flexographic methods.&nbsp Most products start with a base color (usually white) which is not included in color count. &nbsp The means there's no charge for white as a color. &nbsp Example, a sign printed on white poster board with red ink is a one color job.&nbsp There's no color match charge to use one of the standard screen printing colors shown below.
We also offer PMS colors matching at $60.00 per item, per color.&nbsp Exact color match cannot be guaranteed.&nbsp If you'd like a PMS color match, please provide CandidateSigns.com the PMS number upon placing your order.
Our full color printing utilizes the offset process.&nbsp Literature like postcards and door hangers are always printed in full color.&nbsp While some printers still print 1 or 2 color jobs, we only offer all political campaign literature printing in full color.&nbsp In today's world, people expect campaign literature to be full color.
Remember, these are close representations.&nbsp Due to the vast difference in computer monitors, you may not be seeing the true color.
&nbsp
Art specification are important. &nbsp Please review our
political campaign graphics
specifications to insure we print what you're expecting.&nbsp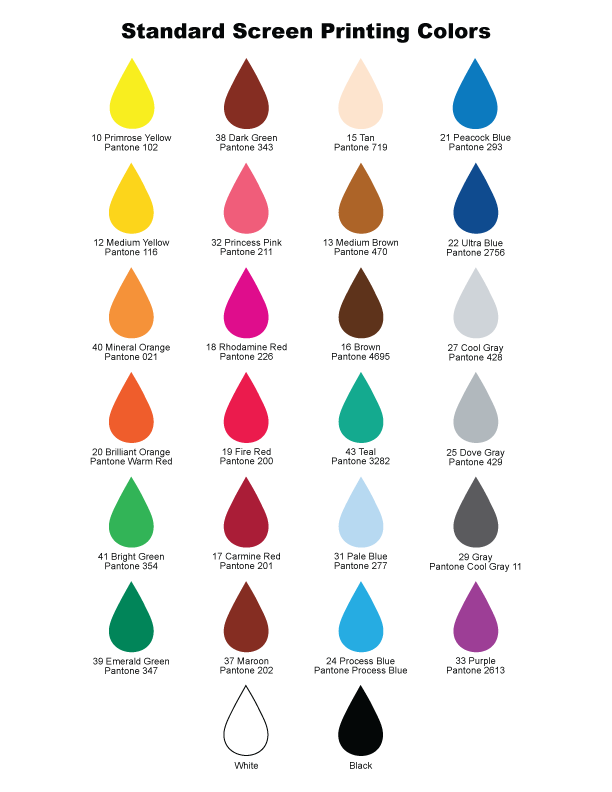 &nbsp
&nbsp
&nbsp