Note Pads
Free Report

Reveals The 7 Secrets to Winning Your Campaign - Big!
They name says it all - Everyone uses Post-its!
Classic Post-it notes tailored to your campaign!

Our Post-its come in 3" x 4" and have the adhesive backing on the 4" side - This provides a landscape finish and more room to write a message or insert your campaign artwork.
Power Clips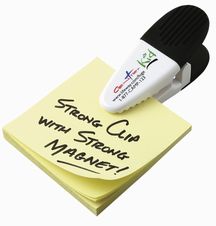 View Product
Paper Clamp with a Magnetic Back!
Great for around the office or in the house! The magnetic back makes them very universal in their uses!

A fun new door item - Place your campaign literature into the clip portion and then use the magnetic back to adhere the clip to your constituents door. You were just able to provide them with two items that promote YOU!