Flags
Free Report

Reveals The 7 Secrets to Winning Your Campaign - Big!
American Flags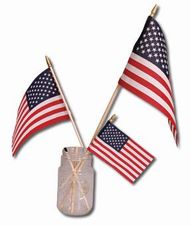 View Product
Old Glory
Republican, Democratic, Independent - It doesn't matter! Every campaign can use patriotism.

Variety of sizes are offered in American Flags. Have your campaign logo and name printed on the staff of any! Great item to have at parades and events! Plus they are reusable.